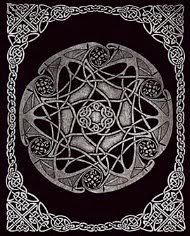 Celtic tapestry with a Jewish magen David in its design.
ז' שבט ה'תשס"ז
The third product of the Land we eat during Tu B'Shevat is v'gefen (וגפן). As discussed in my previous entry, the first letter vav is connective. V'gefen is typically translated as grape, and grapes are indeed the "product of the land" on most Tu B'Shevat seder plates. However, the word in Devarim 8:8 is
not
grape. In Hebrew, the word for grape is enav (ענב).
The root of v'gefen is גפף meaning "winding", "curving", "twisting", "intertwining vine", "raised edges" and "body/limb". The word gefen גפן can mean vine. Grapes are fruits of the vine. Nevertheless, Torah didn't say "grape", it used the root implying something that is winding, twisting and intertwining. Why?
The
first product
we internalize (eat) of the Land, is the kavanah (mystical intention) to reconnect each and collectively to our Divine soul. This was characterized by the wheat. The
second product
we internalize is the realization of reconnection, characterized by the barley. With gefen, the third product of the Land, we begin a long and winding journey toward self-discovery, while at the same time, we are intertwining our natural nature with our Divine nature.
Thus, we can see that the fruits we eat during Tu B'Shevat contain within them a mystical message for us. That message is a recipe for reunifying our natural nature and our godly nature, and for drawing the power of that reunification out into our living reality.
The Subterranean Temple
- on the long and winding nature of the path to the hidden ark.