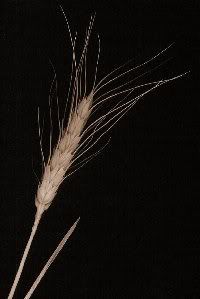 ו' שבט ה'תשס"ז
One of the traditional foods we eat on Tu B'Shevat is wheat (חיטה). However, in
Devarim 8:8
, the pasuk from which the tradition is derived, the word is not חיטה, it is חטה. In it's
native state
, the root חטה implies being "removed from the source of life", "sinning extensively" and "deviating from the path" [1].
Nevertheless, most chumashim translate the word חטה, as it in its native state, as wheat. What can we learn from this?
First, the reason the root implies being removed from the source of life, is because the root חטה lacks the letter yod (י) which the word wheat contains. With the letter yod included, the entire meaning of the root is transformed. The
yod becomes reconnected
to the source of life. In other words, from the perspective of the pintele yid (the aspect of the soul hardwired into the Divine and represented by the yod), it is disconnected from life (represented by the letter chet ח) in the root חטה.
When the yod and the chet are reunited in the word wheat, we form the word chai חי (representing both the
chayah and yechidah
soul levels and life). Moreover, kabbalistically, חי represents one's messianic soul.
The remaining letters of the word חיטה are tet (ט) and hey (ה), each representing the feminine yesod and malchut (aretz), respectively. Tet (a feminine vessel letter) functions to receive messianic awareness, while hey (a feminine letter of expressive bestowal) functions to express and distribute it.
Thus, by pronouncing חטה as חיטה we are infusing our "native state of awareness" (katnut consciousness) with the kavanah to drive us toward a "messianic state of awareness" (gadlut consciousness). We are making it a reality by pronouncing it the way we want reality to be, by recognizing that at some level, it already is.
This year, Monday January 29, is a Jewish observance called Yod Shevat (the tenth of Shevat).
It is
, before we celebrate either Imbolg or Tu B'Shevat.
Footnote:
[1] Etymological Dictionary Of Biblical Hebrew, R' Matityahu Clark